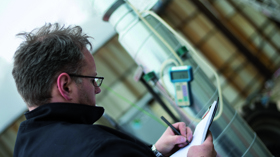 We provide a wide range of technical measurement solutions and analyses primarily aimed at the energy sector.
Emission measurements




DGC offers accredited emission measurements. We focus on methane emissions and provide leak detection at biogas and upgrading plants, meter and regulator stations, filling stations as well as plants with other hydrocarbons than methane.

Test Centre for Hydrogen Technology in collaboration with FORCE Technology
The centre offers tests and analyses in the production, transport and consumption of hydrogen. The aim is to help the energy sector with the demanding transition to hydrogen and Power-to-X.
Read more about Test Centre for Hydrogen Technology

Green gas testing




DGC runs a test centre with laboratory facilities for analysis of green gases, such as hydrogen, biogas and gasification gas.

Analysis of gas quality




DGC offers a wide range of analyses of gas quality, covering the typical analysis of composition and calcu- lation of calorific value as well as analysis of special components of the gas.

Test of appliances




In our laboratory, we can test different gas-fired appliances for function and compliance with a num­ber of parameters.
Helle Gottschalk Nygaard
Laboratory Manager